We've entered the final international break of this season and Arsenal remain on top of the Premier League table – here are our player ratings.
Mikel Arteta's men have been outstanding this campaign. We've been the best team in the country and are deservedly eight points clear of Manchester City at the top of the table.
Almost every player has had a remarkable season, but how would you rate them out of 10? Here's what we think…
Arsenal player ratings so far this season
Aaron Ramsdale: 8.5/10
Ramsdale has been sensational for Arsenal this season. Yes, he has made a couple of mistakes, but the Englishman has saved us on numerous occasions and has kept 12 clean sheets – no goalkeeper in the country has kept more.
Matt Turner: 7.5/10
Turner has had a solid campaign. He has only featured in the Europa League and the FA Cup, and has kept four clean sheets in seven appearances. That's not a bad record at all considering this is his debut campaign.
Ben White: 9/10
White has been the best right-back in the Premier League this season. A lot of eyebrows were raised when Arteta deployed him as a full-back instead of in his natural position, but he has proven everyone wrong with consistently amazing performances.
Takehiro Tomiyasu: 6/10
Tomiyasu hasn't quite had the kind of season he had last time out. The Japan international has definitely had his good moments, but he has struggled at times too. He's now injured and will miss the remainder of the season, which is a big blow for us.
Jakub Kiwior: 5/10
Kiwior joined Arsenal in the January transfer window and he has played just twice. He made his debut against Sporting Lisbon in Portugal and struggled, but his cameo just before the international break against Crystal Palace was much more impressive. He'll come good.
William Saliba: 9/10
Saliba is just 21 years old and he has owned the Premier League this season. The Frenchman is without doubt the best defender of his age in the country, and he will only get better in the coming years.
Rob Holding: 6/10
Holding has had to be patient all campaign, but he has mostly been solid whenever he has played. Of course, he isn't quite on Saliba's level, but he is more than a decent option to call upon when necessary. A real team player!
Gabriel Magalhaes: 9/10
Gabriel didn't quite get the recognition he deserved in the first half of the campaign, but everyone can see his class now. He is the best defender in the Premier League right now and there's no debate there. What a player!
Oleksandr Zinchenko: 9/10
Zinchenko has been one of our best players this season. The Ukrainian is a real leader on and off the pitch, and his performances, especially since after the World Cup, have been amazing. Incredible signing.
Kieran Tierney: 6.5/10
It has been a difficult season for Tierney. The Scotsman has always been the first-choice, but following Zinchenko's arrival, he has had to spend more time on the bench than he would've liked. However, whenever he has played, he has been solid.
Thomas Partey: 9/10
Partey is Arsenal's most important player. When he plays, we are favourites to win almost every single time, and his performances since the start of this season have been absolutely incredible.
Granit Xhaka: 9/10
Xhaka suffered a slight dip in form compared to the start of the season, but he has returned to his best in recent weeks. His partnership with Partey has been fantastic this season.
Mohamed Elneny: 3/10
It has been a really difficult season for Elneny. The Egyptian missed a big chunk of the season due to injury before the World Cup and sadly for him, he suffered another serious injury in January. He's set to miss the remainder of the season as well.
Jorginho: 7.5/10
There were a few moans and groans when Arsenal signed Jorginho from Chelsea in January. The Italian was not the guy everyone wanted, but his experience in the middle of the park when Partey was unavailable really helped us. He has been excellent so far.
Fabio Vieira: 7/10
Vieira struggled to adapt to the English game early on in the season but he is getting better and better. He's still not 100 per cent ready to be a regular starter, but his performances have been really impressive.
Martin Odegaard: 9.5/10
What a season Odegaard is having! Our skipper has scored 10 goals and provided seven assists in the Premier League this season, and he is up there with the best players in the country. Amazing season so far!
Emile Smith Rowe: 4/10
Smith Rowe has had a difficult campaign with injuries. He missed most of the first half of the season due to injury, and he isn't quite a regular anymore as a result. However, he did provide an assist in our comeback win over Bournemouth and we're sure he has a part to play in the final 10 games of the campaign
Bukayo Saka: 9.5/10
Saka has once again been our best player this season. He has directly been involved in 23 goals in all competitions this season, and he's a strong contender to win the Player of the Season award.
Gabriel Martinelli: 9/10
Like Xhaka, Martinelli suffered a slight dip in form after the World Cup, but he has mostly been sensational recently. He is our top scorer in the Premier League with 13 goals, and he will be key in the coming games as well.
Reiss Nelson: 7.5/10
Nobody really expected Nelson to get any opportunities this season, but the Englishman has become our super-sub of dreams. His dramatic winner against Bournemouth could well prove to be the difference if we go on and win the Premier League title.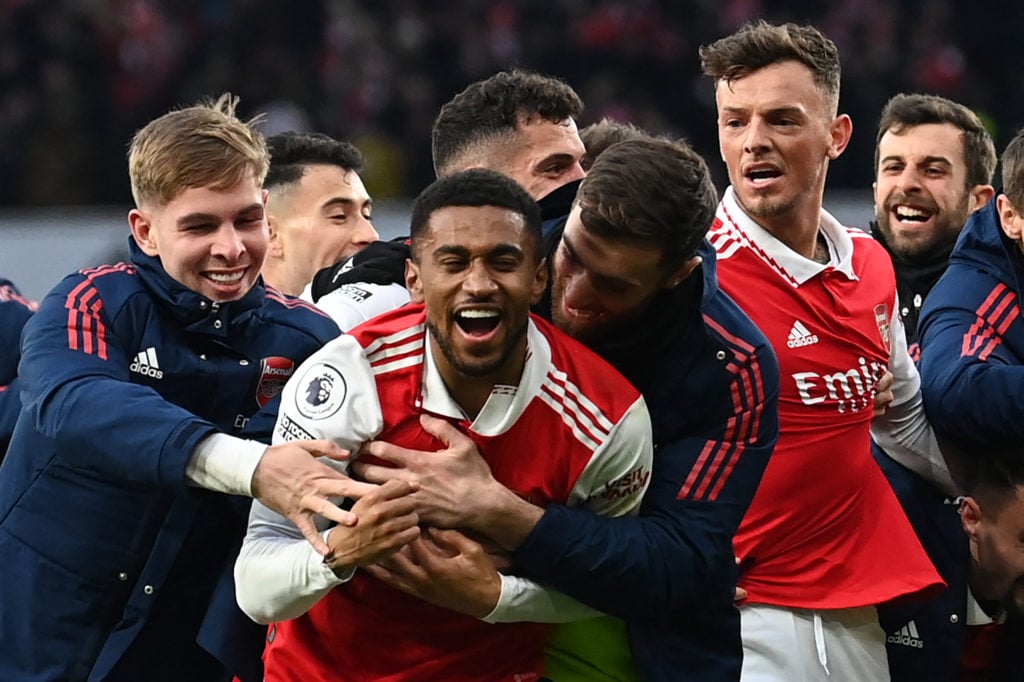 Leandro Trossard: 9/10
Without a doubt the best January transfer in the entire Premier League. Trossard has been absolutely incredible for Arsenal, and his performances during Gabriel Jesus' absence have been tremendous. What a player!
Eddie Nketiah: 7.5/10
Nketiah had to be patient in the first half of the season, but following Jesus' injury, he became a regular. The Englishman did a solid job for us up front and his form only dipped when he suffered a knock. He continued to play a few games with an injury because we had nobody else up top. A real team player.
Gabriel Jesus: 8/10
Jesus was arguably our best player in the first half of the campaign, but he has barely played since the World Cup because of his injury. He is back now and if he can replicate the kind of form he showed in his first few games for us, we should be able to win the title.
Mikel Arteta: 10/10
This needs no explanation, really. The best manager in the country this season and a man who has completely transformed our club. Hopefully, he can take us all the way.
Related Topics
Have something to tell us about this article?
Let us know