The mid-season World Cup break has begun and Arsenal are on top of the Premier League table – here are our player ratings so far.
Mikel Arteta's men have been absolutely unbelievable this season. We've exceeded everyone's expectations and are guaranteed to be on top until Christmas, which is an extraordinary achievement.
Arsenal player ratings so far this season
Aaron Ramsdale: 7.5/10
The Englishman hasn't quite set the stage on fire like he did last season, but to be fair to him, he hasn't had an awful lot to do. Our defence in front of him has been mostly solid, while his distribution has been amazing as usual.
Matt Turner: 7.5/10
The American has played four times for Arsenal since joining us in the summer and has three clean sheets to his name, conceding just one goal in the process. He isn't on Ramsdale's level just yet, but he's definitely improving.
Ben White: 9.5/10
What a player he has become. Many people weren't too sure about White at right-back at the start of the season, but he has been incredible. He's one of our best players now and his fine performances have earned him an England call-up. Outstanding!
Takehiro Tomiyasu: 7/10
Started the season injured and has lost his place in the side to White. Arteta has preferred him at left-back way more than in his natural position, but he has mostly been very good. The way he contained Mo Salah in our win over Liverpool was truly fantastic.
Cedric Soares: 3/10
Cedric has fallen down the pecking order and has barely played. He has featured just four times this term – only one of which came from the start. He hasn't been bad, but he just hasn't been given enough opportunities for a fair rating.
William Saliba: 9.5/10
What a player this boy is! 21-year-old Saliba came into the Premier League and made it look easy. He has arguably been the best defender in the country this season, and we'll go as far as saying he has been our best player this campaign.
Rob Holding: 6/10
Holding has been a regular in the Europa League and has had a decent season. His defending has come into question on a couple of occasions, but he has been a good squad player for us so far.
Gabriel Magalhaes: 8.5/10
Saliba's emergence cast a big shadow on Gabriel's performances and the Brazilian's mistakes were highlighted a lot more than necessary. The 24-year-old has had his shaky moments, but he has formed an excellent partnership at the back and deserves a lot more credit than he gets.
Oleksandr Zinchenko: 8/10
Zinchenko has been excellent for us whenever he has played, but injuries have really disrupted his season. The Ukrainian has missed 13 games in all competitions since joining us, but we look a lot more assured when he's starting.
Kieran Tierney: 7/10
It has been a difficult season for Tierney. He may have expected that he'll be the second-choice left-back following Zinchenko's arrival, but at times this term, he's fallen below Tomiyasu as well in the pecking order. That is a shame, but he has fared well when he has played.
Thomas Partey: 9/10
Partey, in our opinion, is Arsenal's most important player. We look so much more in control of games when he starts in the middle of the park, and if he has a good time on the pitch, we pick up all three points more often than not.
Granit Xhaka: 9.5/10
Has there ever been a more impressive turnaround in the history of the Premier League? Xhaka is an inspiration, and his performances this season have been absolutely stunning. Alongside Saliba, he has been our best player so far.
Mohamed Elneny: 4/10
Elneny has been good when he has played, but the Egyptian has missed a big chunk of the season due to injury. He has only played five times so far, which is not really a big enough sample size to rate him.
Albert Sambi Lokonga: 5/10
Lokonga is probably the only Arsenal player who hasn't had a great season so far. The quality he showed at the start of last season seems to have disappeared, which is a real shame. Hopefully, he can turn things around in the second half of the campaign.
Martin Odegaard: 8.5/10
Captain fantastic! Odegaard has been brilliant for us all season. Yes, he has missed a few chances to score, but he's clearly improving in this department having scored six goals in the league so far. He'll be key if we go on to achieve something special this season.
Fabio Vieira: 7/10
Vieira came in with an injury that cost him the entire pre-season. That's not ideal at all for a foreign player coming into the Premier League, but the 22-year-old has shown his brilliance in flashes. This break will definitely help him adapt.
Emile Smith Rowe: 3/10
This has been the biggest shame of the season. Smith Rowe has played just 47 minutes of football all campaign, which is just really sad. However, the good news is that he should be back in action when football returns on Boxing Day (Standard).
Bukayo Saka: 8.5/10
With five goals and six assists so far, Saka has been brilliant. However, we can all see that he's nowhere near his best yet. That makes him a scary proposition for opponents as it's only a matter of time before he really starts firing. That could be a game-changer for us in the second half of the campaign.
Marquinhos: 6.5/10
The young Brazilian joined us from Sao Paulo in the summer and he has caught the eye. He scored a goal and picked up an assist on his Europa League debut, which was really impressive. He hasn't been able to do much since, but the potential is there for everyone to see.
Gabriel Martinelli: 8.5/10
Martinelli has been brilliant for us this season. He has made that left-wing spot his own and has been one of the best wingers in the Premier League. His performances even earned him a spot in the Brazil squad, which is an outrageous achievement.
Reiss Nelson: 6.5/10
The Englishman has had his fair share of problems with injuries, but he stole the show with a fantastic display against Nottingham Forest a few weeks ago. Hopefully, he can use this break to really kick on.
Eddie Nketiah: 7/10
Nketiah signed a lucrative new contract in the summer and had a great pre-season. He started the Europa League campaign very well too, but he has hit a bit of a bump recently. Hopefully, he'll use the next few weeks to recharge and get back to his best.
Gabriel Jesus: 9/10
What a signing he has been. Jesus' arrival has taken us to a whole new level this season, and the way he started the campaign is one of the biggest reasons why we are where we are. His recent goal drought is the reason why he hasn't been rated as high as Saliba and Xhaka, but he still deserves so much credit for how he has fared.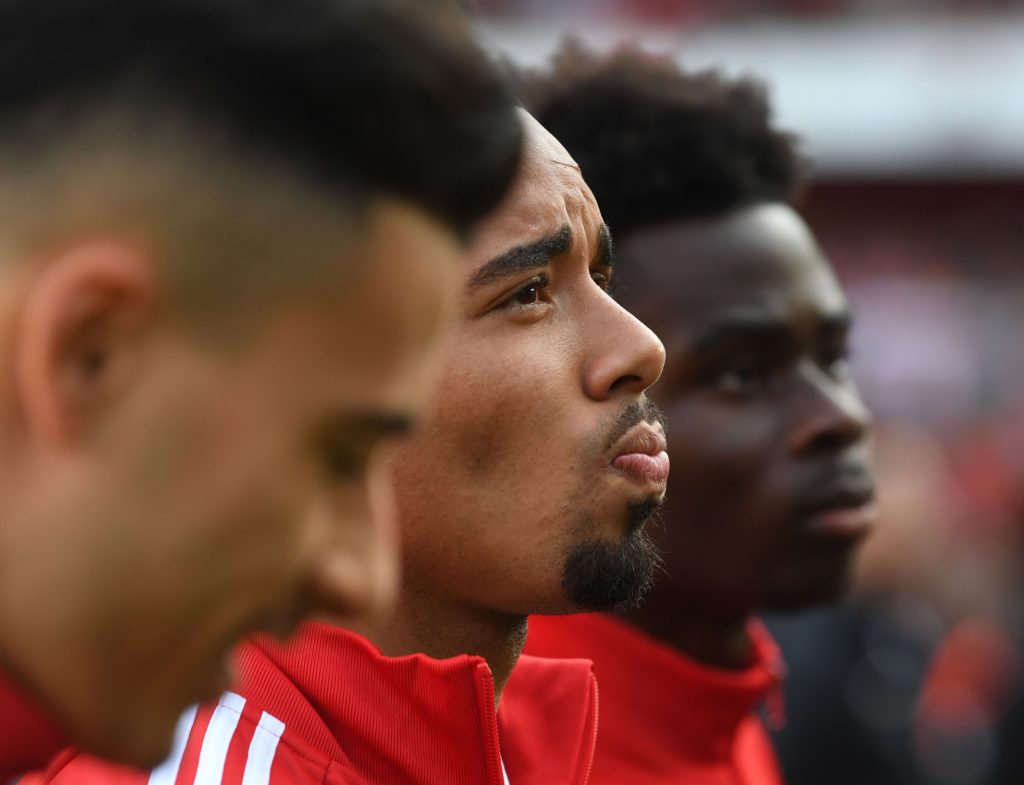 Have something to tell us about this article?
Let us know