Erling Haaland scored five goals for Manchester City against RB Leipzig in the Champions League last night, but that didn't stop him from acknowledging greatness when he saw Arsenal legend Thierry Henry after the game.
The Norwegian is a freak of nature, isn't he? Everyone knew he'd be a star in the Premier League when he joined Manchester City last summer, but not many would've predicted that he'd do what he has done this term.
Haaland has scored 39 goals and provided five assists in 36 appearances this season. That is simply phenomenal and Henry, who knows a thing or two about scoring goals, is impressed too.
Erling Haaland's message to Thierry Henry shows Arsenal legend is the real GOAT
Manchester City took on RB Leipzig in the Champions League last night and Pep Guardiola's men were the favourites to win the game and go through to the next stage of the competition.
Unsurprisingly, they did just that, but what may have surprised a few people is the fact that City scored seven goals and Haaland netted five of those at the Etihad last night.
That is simply stunning, and the scary thing is he only played 63 minutes. He would've probably scored a couple more if he had stayed on the pitch.
After the game, Haaland joined Arsenal legend Henry, Jamie Carragher and Micah Richards on CBS Sports for an interview. At the very start, the Norwegian acknowledged the Arsenal legend's greatness.
When asked about his five-goal performance, Haaland said, "it's an amazing feeling," before turning to the legendary Frenchman and saying: "I think you're the only one that knows how to score a lot of goals."
As kids on the internet say these days, real recognises real.
The Insider's View:
Thierry Henry is the greatest striker in the history of the Premier League.
The legendary Frenchman scored over 225 goals for us in all competitions, won two Premier League titles and three FA Cups. He also won the World Cup with France and the Champions League with Barcelona over the course of his sensational career.
Haaland definitely has the potential to break Henry's records in England. He is well on course to become the most prolific striker this country has ever seen, and if he stays long enough, he will beat Alan Shearer's record too.
However, for now, Henry remains the GOAT, and Haaland knows it as well.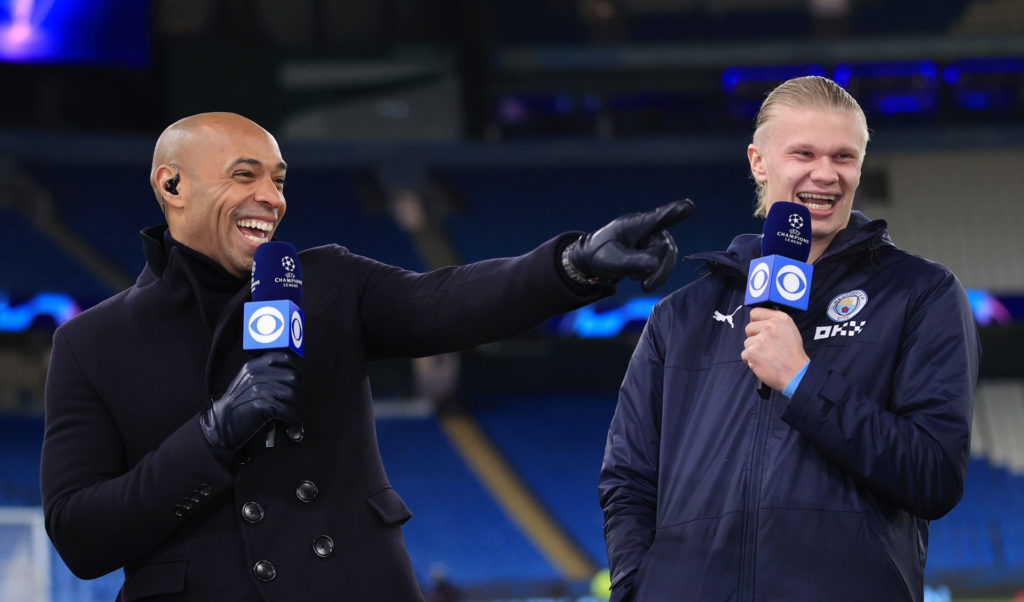 Have something to tell us about this article?
Let us know