Arsenal goalkeeper Aaron Ramsdale married his pregnant partner, Georgina Irwin, at an intimate wedding ceremony this summer just months after they had a miscarriage.
The 25-year-old took to Instagram in June to let fans look inside their intimate ceremony, 10 months after announcing their engagement. Ramsdale stunned Irwin back in August of last year when he got down on one knee to propose at a romantic hotel reception he organised.
The England international and British Airways flight attendant met in 2019 and soon started dating. While Ramsdale and his wife also found out they are pregnant again this June before he opened up on their miscarriage. They had found out they were expecting last December.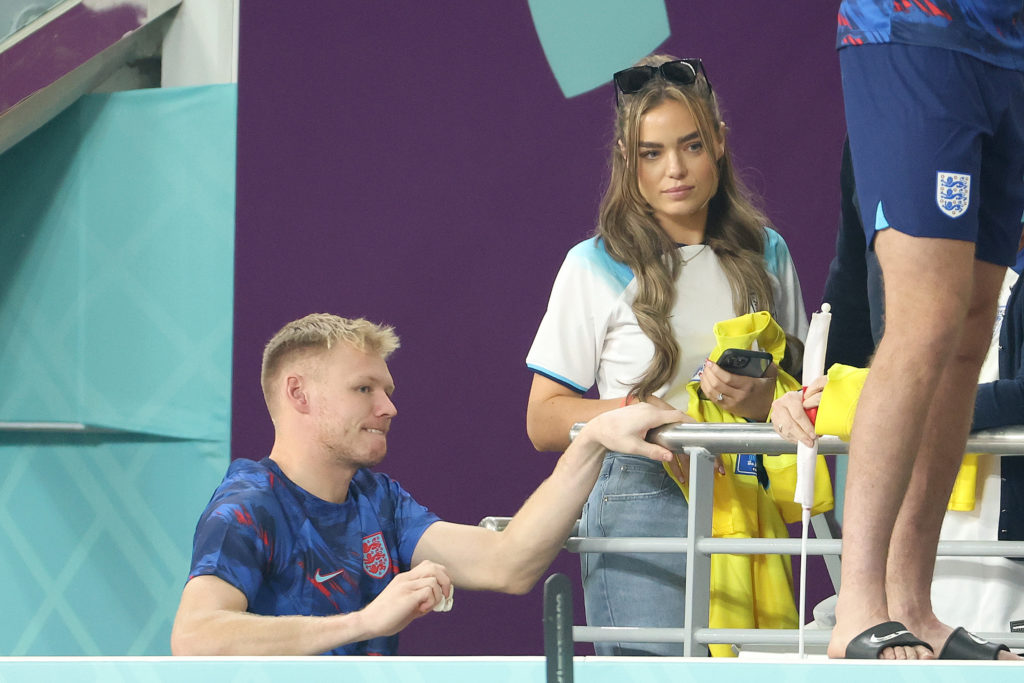 Arsenal star Aaron Ramsdale and Georgina Irwin are expecting again
Ramsdale shared how Irwin had suffered a miscarriage during a flight back from a holiday to celebrate the pregnancy. He still put on a brave face to continue playing for Arsenal after the events. But a Tottenham Hotspur fan assaulted him after the north London derby in January.
They are now expecting again, though, with Ramsdale and Irwin sharing their news shortly before their wedding in June. The happy couple tied the knot at an intimate ceremony with a few friends and family. Irwin opted to wear a white frilled mini dress with strapped heels.
MORE ARSENAL STORIES
Look inside Aaron Ramsdale and Georgina Irwin's wedding ceremony
Ramsdale wore a smart grey suit for the ceremony as he married Irwin, the co-owner of the sportswear brand, Gymnetix. He met the globe-trotting flight attendant whilst on loan with AFC Wimbledon from Bournemouth in 2019. The couple have been inseparable ever since.
Irwin even joined Ramsdale in Qatar whilst the Arsenal goalkeeper represented England at the World Cup last winter. While the couple enjoyed an intimate wedding ceremony during the summer, with Ramsdale letting fans take a look inside his and Irwin's special day in June.
The Chesterton-born shot-stopper posted a selection of snaps on social media showing the couple exchanging rings. Ramsdale also bent down to kiss Irwin's pregnant stomach before posing with their family and friends. He simply captioned the post: "Mr & Mrs, 20.06.23."
Related Topics