Rio Ferdinand believes Arsenal have a 'very valuable' player in Eddie Nketiah, even if the striker often faces many doubters regarding his role under manager Mikel Arteta.
The 24-year-old helped the Gunners kick off the 2023/24 Premier League season with a 2-1 win over Nottingham Forest. Nketiah broke the deadlock at Emirates Stadium this Saturday afternoon past Matt Turner. Bukayo Saka doubled their margin before Taiwo Awoniyi's reply.
Nketiah gave Arteta's men the perfect start to the new campaign 26 minutes into the match. He beat the Reds' new recruit from Arsenal following some superb play by Gabriel Martinelli on the wing. The Brazilian weaved his way through Forest's defence to pick out the forward.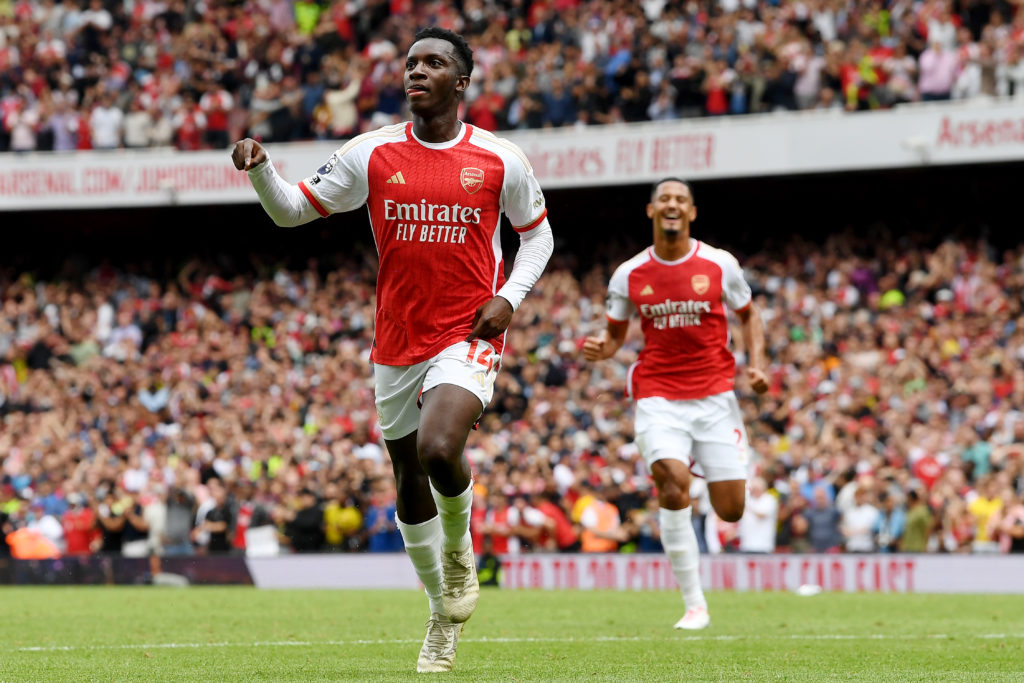 Nketiah averages just one goal with every four appearances for Arsenal
It was Nketiah's first goal since January and he needed a slice of fortune to beat Turner. The 5 ft 8 forward's low effort took a deflection to wrong-foot the shot-stopper. But Saka needed no luck on 32 minutes as he flashed the ball into the roof of the net with a sensational shot.
Nketiah has now scored 33 career goals for Arsenal after recording his 133rd appearance in all competitions against Nottingham Forest. He has also laid on five assists, with three during the 2022/23 campaign. The striker ended last season with nine goals from 39 appearances.
MORE ARSENAL STORIES
What has Ferdinand said after Nketiah scored against Nottingham Forest?
Arteta opted to start Nketiah as Arsenal beat Nottingham Forest with Gabriel Jesus sidelined following his knee surgery. The Brazilian required an operation after reporting discomfort in the knee he injured at the World Cup. But Arteta expects Jesus will return to training shortly.
Jesus' return will likely cast doubt over Nketiah's role despite scoring in Arsenal's win against Nottingham Forest. Ferdinand has also told TNT Sports Ultimate (12/08, 15:12) that Nketiah is proving his doubters wrong. He has said of England's Under-21 17-goal record goalscorer:
"We all would have seen [and] he would have seen, as well, people say: 'Is he the right guy to stay here? Can he shoulder the responsibility if Jesus isn't fit? Is he someone who is going to be able to score the goals to get them to win the league and become a successful team?
"I think he answers people. I think this kid knows how to score goals, he's done it all his career. I don't know him personally but I know people around him and he's worked on himself physically. He's diligent behind the scenes [and] he's got a great work ethic.
"The kid, whatever you think about him, this kid knows how to put the ball in the back of the net. The ball comes in and around the box, he gets himself in the right positions and he can finish… I think he's a very valuable player."
Related Topics