Arsenal defender William Saliba has now named his favourite Premier League forward between Manchester City's Erling Haaland and Manchester United's Marcus Rashford.
Saliba has come up against Haaland and Rashford since making his long-awaited debut with Arsenal last season. Mikel Arteta has tasked the 22-year-old with trying to thwart Haaland in three matches. While the Frenchman has had to face Rashford running at him twice to date.
Arsenal lost to Manchester City in Saliba's first two encounters with Haaland but he held the 23-year-old to one goal. The Norway wonder struck at Emirates Stadium in February as the Citizens won 3-1. He beat Aaron Ramsdale to score Man City's third goal in the 82nd minute.
Haaland and Rashford have scored against Saliba and Arsenal
Haaland had also faced Saliba in the FA Cup in January before Manchester City beat Arsenal in the Premier League. Arteta introduced Saliba as a half-time substitute for Rob Holding at Etihad Stadium but the Gunners lost 1-0. Yet Haaland struggled to get the better of Saliba.
Saliba again helped Arsenal to stop Haaland from scoring in the Community Shield in August at Wembley. Pep Guardiola also took the striker off in the 64th minute for Cole Palmer, who then broke the deadlock. Leandro Trossard equalised before Arsenal won 4-1 on penalties.
MORE ARSENAL STORIES
Rashford has also scored past Ramsdale while Saliba has been on the pitch for Arsenal. The Manchester United dynamo delivered three goals in their meetings with the Gunners' over the 2022/23 season. Both teams won their respective home fixture in the Premier League.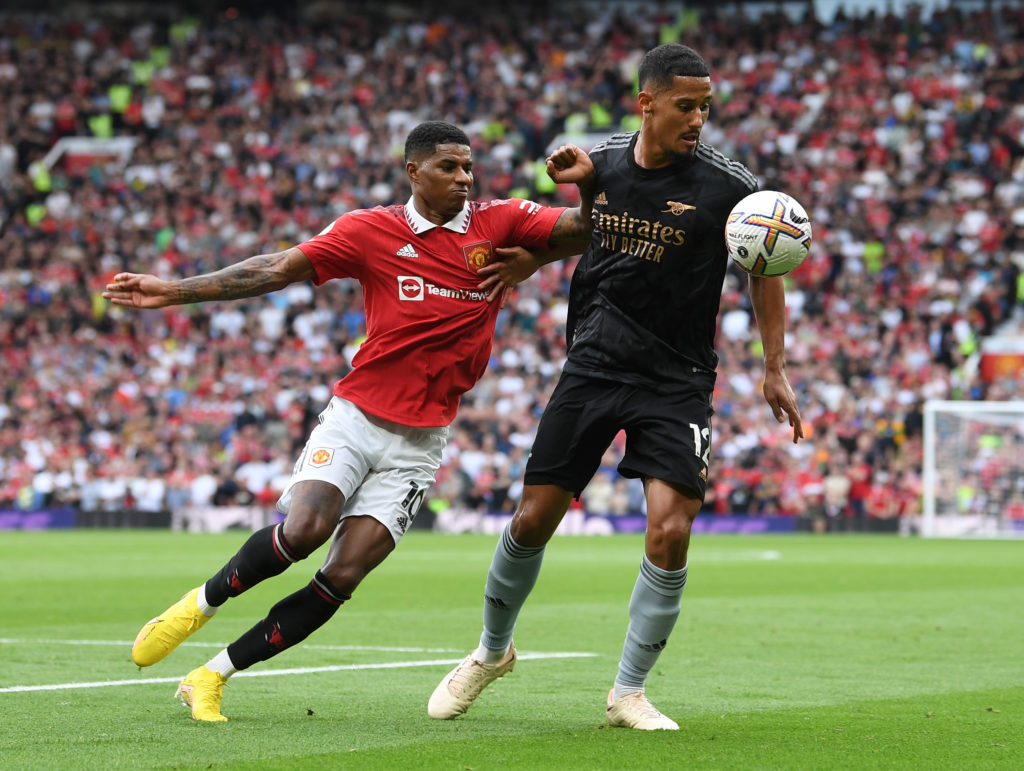 The Arsenal star picks his favourite Premier League striker
Rashford scored twice whilst playing as a centre-forward to secure Manchester United a 3-1 win over Saliba's Arsenal at Old Trafford. The 25-year-old also then scored from the left wing at Emirates Stadium in January. And Saliba prefers it when Ben White has to mark Rashford.
Erik ten Hag will hope Rashford can cause Saliba problems again this Sunday when Arsenal host Manchester United. But the eight-cap France international names Haaland as the best striker in the Premier League between him, Rashford and Newcastle United's Alexander Isak.
"I will probably say Haaland," Saliba told Sky Sports News (02/09, 13:55). "Rashford second and Isak, who I haven't played against but I saw him [against Arsenal and] he's good, as well.
"[Haaland] is one of the best, top three, that I have played against. He's so good. Everyone knows that he's so good, you have to be focused all game. Rashford is so, so good, so technical, so fast and is a tough player to play against.
"For me, he's better when he's on the left. Like this, he's for Ben White [to deal with] not for me. But at striker, as well, he's so good because he's so fast and he makes some good runs in behind. So, he's tough to play against and Isak I've never played against."
Related Topics