The worst Arsenal VAR decisions of all time from overturned goals, denied penalties and questionable red cards in the Emirates Stadium natives' Premier League games.
Arsenal have found themselves victims of some true howlers since the Premier League first introduced the Video Assistant Referee (VAR) technology. It has been in use since the start of the 2019/20 season after the clubs voted unanimously to embrace it in November 2018.
But the processes in place still allow for human error and the VARs and on-field referees to make the crucial decisions. Thus, the officials and video assistant referees make some truly glaring mistakes still when deciding on the four match-changing situations VAR is used for.
Arsenal have a negative net subjective VAR decision score
Premier League referees can only use VAR to reach a decision on goals, penalties, direct red cards and mistaken identities. Arsenal saw referees use VAR to overturn nine decisions over the 2019/20 term. Yet the Gunners had four subjective decisions go against them to one for.
The number of decisions overturned with VAR in Arsenal's games rose to 12 in 2020/21 with three subjective decisions against to two for. It rose again in 2021/22 to 15, as well, with two subjective decisions against to six for. It was the Gunners' first positive net subjective score.
MORE ARSENAL STORIES
Yet their net subjective score was negative again in the 2022/23 campaign. Arsenal saw four subjective VAR decisions go against them to three for across 13 incidents. Just one of those 13 reviews saw a referee award the Emirates Stadium club a goal using the VAR technology.
So, as VAR decisions in Arsenal's games continue to spark debate among the north London giants' fanbase, Arsenal Insider has taken a look at the club's worst Premier League calls of all time in order of date since the English top-flight introduced the technology in 2019/20…
VAR denies Sokratis a goal in Arsenal (2) vs (2) Crystal Palace, October 2019
Arsenal only had to wait until October 2019 to be the victim of a questionable VAR decision in a Premier League game. Sokratis Papastathopoulos believed he had scored for a brace to beat Crystal Palace in the 83rd minute. But referee Martin Atkinson ruled out his second hit.
Sokratis had broken the deadlock with a volley in the seventh minute before David Luiz fired home Arsenal's second two minutes later. Yet Luka Milivojevic and Jordan Ayew dragged the Eagles level on either side of the break. Atkinson then denied Sokratis the would-be winner.
The official and his VAR decided to rule out Sokratis' goal after deeming Calum Chambers to have earlier fouled Milivojevic in the build-up. Yet Atkinson and the VAR enraged Arsenal as Milivojevic stepped past Chambers and threw himself down while collecting Chambers' foot.
VAR fails to overturn Luiz's red card in Wolves (2) vs (1) Arsenal, February 2021
Luiz was at the centre of a bewildering VAR decision as Arsenal lost at Wolves in the Premier League in February 2021. VAR Jon Moss at Stockley Park did not brief on-field referee Craig Pawson to overturn his decision to show the Brazilian a red card after he fouled Willian Jose.
Pawson reached straight for the red card after Jose went to the ground inside Bernd Leno's area at Molineux. But replays clearly showed the studs on Jose's trailing left foot kicked Luiz on his knee. Jose also threw himself to the ground after kicking the floor after a mishit shot.
Just as surprisingly as Pawson's decision to send Luiz off and VAR Moss not overturning the red card, Arsenal failed with their appeal against the defender's ban. The FA's independent regulatory commission dismissed the appeal to which the Gunners were left 'disappointed'.
VAR overturns a penalty for an offside Pepe in Arsenal (0) vs Everton (1), April 2021
Arsenal lost 1-0 at home to Everton in April 2021 through an own goal by Leno in the 76th minute. But Mikel Arteta's squad might have taken the lead from the penalty spot after 51 minutes. Yet referee Moss overturned his call to point to the spot after consulting the VAR.
Moss initially awarded Arsenal a penalty as Richarlison had fouled Dani Ceballos in Jordan Pickford's area. The Brazilian flicked his foot out as the midfielder sought to cut back. But while the VAR confirmed the foul, it deemed Nicolas Pepe had been offside in the build-up.
Yet when the VAR drew the lines to show Pepe's offside, it appeared to show the winger was level. The two lines visibly overlapped and with both players touching the same line. But the benefit of the doubt sided with the defender and Moss overturned Arsenal's given penalty.
VAR awards a penalty for a foul by Xhaka in Arsenal (1) vs (2) Man City, January 2022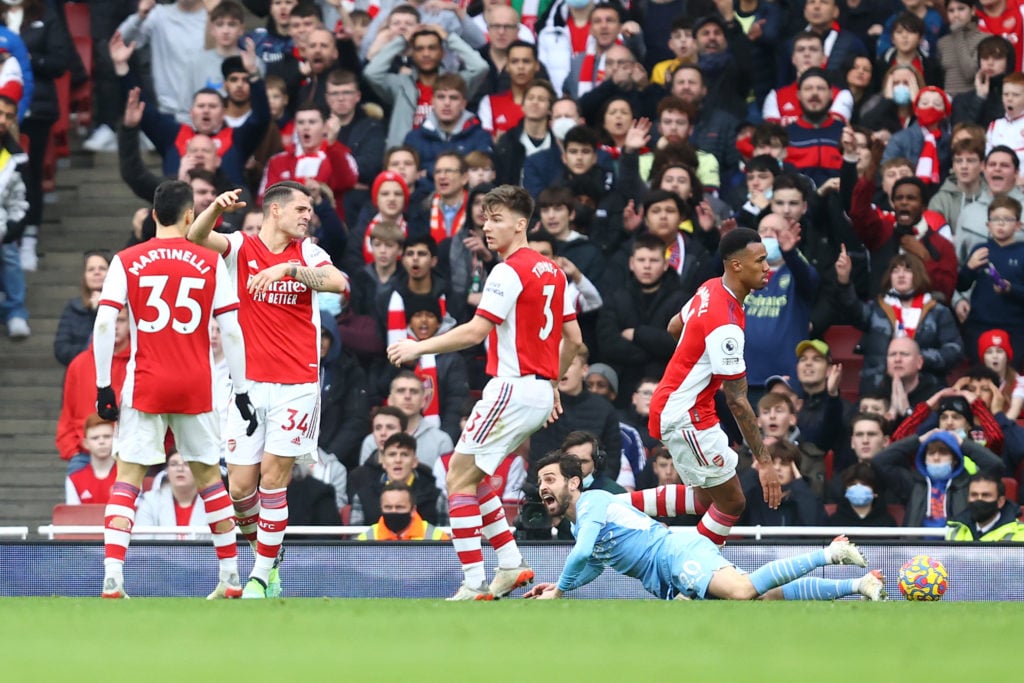 Arsenal looked set to stun Manchester City on New Year's Day in January 2022 as Bukayo Saka put them ahead. The Gunners were well worth their lead but Riyad Mahrez pulled Man City level after the break. Rodri would then snatch the three points deep into stoppage time.
The Citizens could count themselves extremely fortunate that Mahrez was able to score past Aaron Ramsdale, though. Referee Stuart Attwell was adamant that Bernardo Silva dived and waved away Manchester City's protests. But the VAR advised it was a foul by Granit Xhaka.
Yet replays only raised questions as to why the VAR advised a penalty against Arsenal. Silva was already going to the ground as Xhaka pulled his leg away without any contact between the pair. Xhaka holding onto Silva's top, therefore, did not force the Portuguese to go down.
A VAR decision infuriated the Gunners in Tottenham (3) vs Arsenal (0), May 2022
A VAR decision enraged Arsenal as the Gunners lost 3-0 at Tottenham Hotspur in May 2022 in the north London derby. Referee Paul Tierney wasted zero time as he gave Spurs an early penalty when Son Heung-Min went down. He was also later quick to send Rob Holding off.
Tierney irritated Arsenal by giving Tottenham a penalty as Cedric Soares made no attempt to tackle the winger. Yet Son brushed past the defender's back before he collided with Holding after the ball sailed past. Tierney did not hesitate to give the penalty that Harry Kane scored.
Arsenal's frustrations would only grow 11 minutes later when Tierney gave Holding a second yellow card. The VAR did not step in as Tierney did not show a straight red card. But Holding would have felt hard done by as Son ran into his shoulder, rather than a foul be committed.
Martinelli's goal should have stood in Man Utd (3) vs (1) Arsenal, September 2022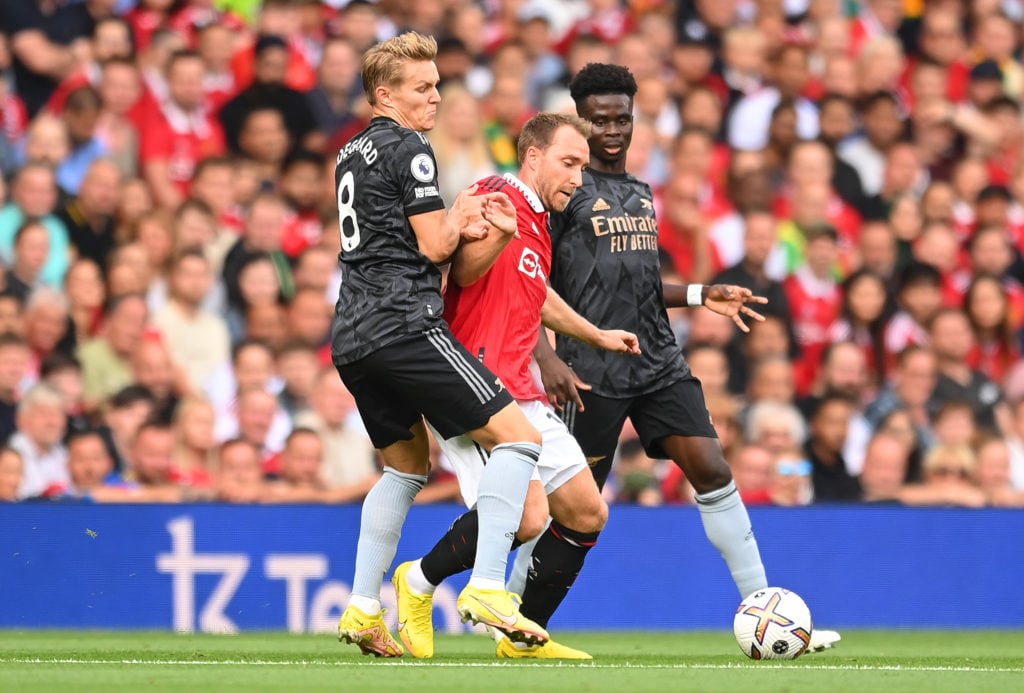 An independent Premier League panel deemed VAR Mason wrong to tell referee Tierney to deny Gabriel Martinelli's goal as Arsenal lost at Manchester United in September 2022, per ESPN. Mason had advised Tierney that Martin Odegaard committed a foul in the build-up.
Martinelli had put Arsenal 1-0 ahead at Old Trafford in the 12th minute after Saka played the Brazilian clean through. But Mason ruled out the goal after judging Odegaard to have fouled Christian Eriksen before Saka took possession. Yet his intervention was incorrect and costly.
Odegaard did not foul Eriksen just inside Arsenal's half of the field as the Manchester United midfielder stepped across the Gunners' captain before tumbling to the ground. It was his act of stepping across Odegaard that drew the contact that Eriksen would exaggerate as he fell.
Mason 'forgot' to draw the lines in Arsenal (1) vs (1) Brentford, February 2023
The Professional Game Match Officials Limited (PGMOL) admitted that VAR Mason made a 'significant' error in the VAR process when he allowed Ivan Toney's goal to stand as Arsenal drew with Brentford in February 2023. Mason would also leave the PGMOL after the error.
Howard Webb, the PGMOL's chief refereeing officer, also contacted Arsenal to apologise for VAR Mason letting Toney's illegitimate goal stand. The PGMOL noted in a statement, via Sky Sports, that he made a 'significant' human error in the analysis of a crucial offside situation.
VAR Mason initially checked a potential block by Ethan Pinnock whilst in an offside position on Gabriel Magalhaes. But after clearing the defender of any wrongdoing as Mathias Jensen took a free-kick, he failed to spot Christian Norgaard was indeed stood in an offside position.
Had Mason drawn the VAR lines as is standard for all offside decisions, it would have shown Norgaard was offside. But Mason 'forgot' to draw the lines and Norgaard's cross to Toney to score a late equaliser stood. Even though the replays showed Norgaard was clearly offside.
VAR denied Trossard a wondergoal in Leicester City (0) vs (1) Arsenal, February 2023
VAR Michael Salisbury denied Leandro Trossard a wondergoal as Arsenal beat Leicester City 1-0 in February 2023. The Belgian thought he broke the deadlock in the 26th minute with a sensational shot. But Salisbury told referee Pawson that Ben White had fouled Danny Ward.
Arteta handed Trossard his first Premier League start as an Arsenal player at the King Power Stadium on the back of signing from Brighton & Hove Albion. The winger appeared to repay the decision, too. Only for VAR Salisbury to deny Trossard his second goal in a Gunners shirt.
Salisbury advised Pawson to rule out the goal after judging White to have fouled Ward in the build-up. The goalkeeper could only punch a corner as far as Xhaka, who rolled the ball back to Trossard to shoot. He picked out the top corner but Salisbury felt White held Ward's arm.
Related Topics